Newspaper magazine magazine shop:
Polygraph role-playing machine (Germany)
Product - full-color newspaper A3 32 pages
Productivity 35,000 copies per hour
Maximum width of the roll 920 mm
Used paper from 38 g/m2 to 60 g/m2
Printed field 820х550mm
Printing equipment:
HEIDELBERGSPEEDMASTER Format 720x1040 mm. 70-1900 g/m2. 4 colors. Full-color straight double-sided OBSETNAYA printing on binding and beer CARDBOARD THICKNESS 0,9 mm, 1,8 mm, 2,7 mm without using paper for printing layer
HEIDELBERGPRINTMASTER Format 520x720 mm. 70-400 g/m2.5 colors + VD varnish.
MANROLAND 204. The format is 500x700 mm. 60-450 g/m2.2 colors.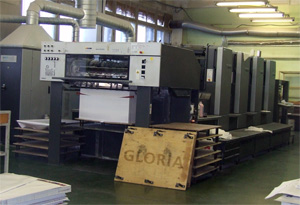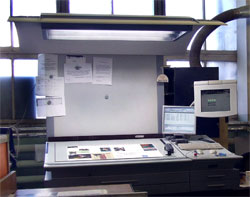 Postpress:
Automatic die cutting Format 720x1040 mm.
Automatic splicing up to 3 points.
Foil stamping. Fomat 500x700 mm.
Congreased, embossed embroidery
Stitching on a paper clip of the Sasha
Crucible felling. The format is 780x1100 mm.
Felling is a stop. Format 620x440 mm.
Lamination. The format is 720x1040 mm.
Shrink wrapping
Corrugator. The width of the roll is 1260 mm.
Flexographic printing up to 4 colors.
Crucible press. The format is 780x1100 mm.
Rotational die cutting. The format is 1600x2400 mm.
Kashirovalnaya installation

Making corrugated boxes:

Corrugator. The width of the roll is 1260 mm.
Flexographic printing up to 4 colors.
Crucible press. The format is 780x1100 mm.
Rotational die cutting. The format is 1600x2400 mm.
Kashirovalnaya installation